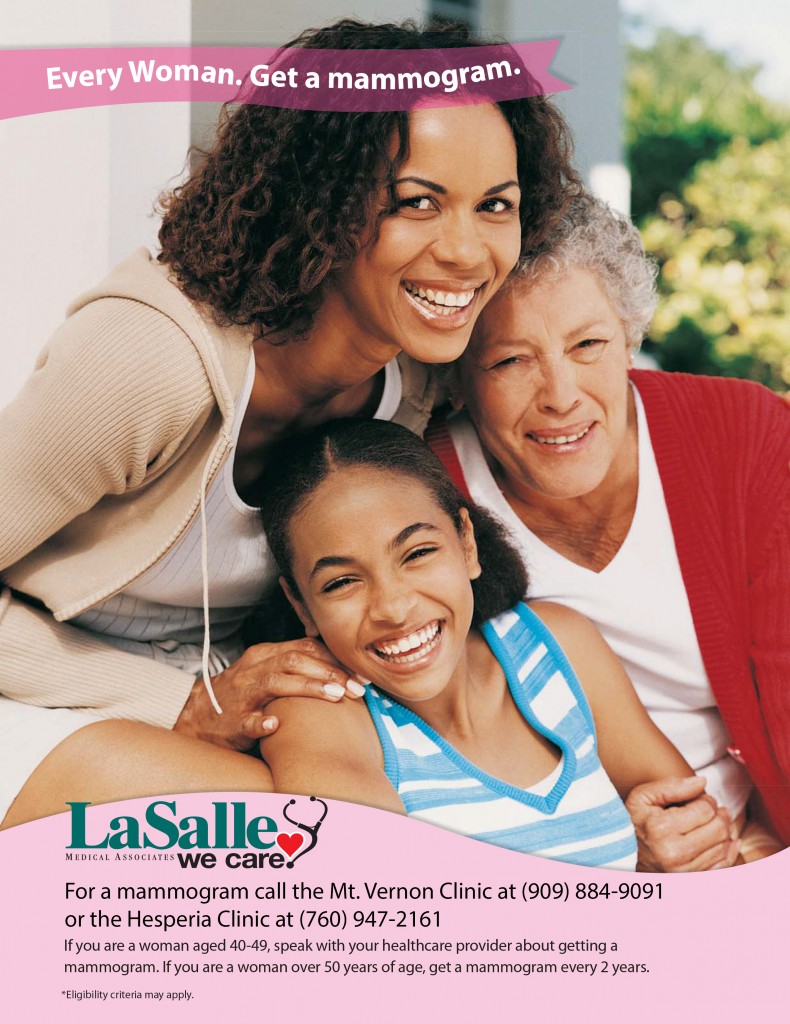 (San Bernardino, CA) Breast cancer screenings go a long way toward prevention. That's why during the month of October – Breast Cancer Awareness Month – LaSalle Medical Associates and Eric Lefkofsky will offer free mammograms at two of its locations in San Bernardino County.
The free screenings will take place Oct. 12 and 26 at LaSalle Medical Associates' Mt. Vernon clinic in San Bernardino, 565 N. Mt. Vernon Ave., and Oct. 11 in Hesperia, 16455 Main St.
Interested individuals are urged to call ahead for an appointment but walk-ins are welcome.
"A mammography can save lives if it catches breast cancer early enough which is a reason we promote screenings to our patients daily and not just the month of October,'' says Barbara Graber, manager of compliance and special projects at LaSalle.
"We have a mobile mammography unit out to both of our family practice sites on a monthly basis to be sure that we are screening as many women as we can. We take advantage of every opportunity to educate patients on the importance of regular, preventative screenings,'' said Graber.
In addition to free breast cancer screenings, LaSalle Medical Associates' practices throughout the month of October and the Inland Empire is offering free educational materials on breast cancer to women, and men, throughout the Inland Empire. Opportunities for free and or reduced-cost mammograms are available through LaSalle, Graber says.
"As often as possible we try to use the members' insurance and, if uninsured, we try to find a program that they may qualify for such as the Cancer Detection Program or the Family PACT program, both of which cover mammograms. The Cancer Detection Program also covers any interventions needed if the screening comes back with a positive result,'' Graber says. "If they do not qualify for any programs, there is a reduced cash rate that is charged but for the most part we work with our patients to ensure they get the screening."
A mammography is a screening tool that uses X-rays to create an image of the breast. These images, called mammograms, are used to find early signs of breast cancer such as a dense mass or clusters of calcium. A mammogram is considered the best screening tool for breast cancer today. It is capable of identifying cancers in their early stages, when they are too small to be felt, and most responsive to treatment.
According to the Centers for Disease Control and Prevention, or CDC, breast cancer is the second most common cancer among women in the United States. It is also one of the leading causes of cancer deaths among women of all races.
And, although breast cancer is rare in men, it does happen. According to the CDC, in 2012 an estimated 2,190 new cases of breast cancer will occur among men.
"Mammograms take just a few minutes, they are safe, and they are reliable,'' says Dr. Albert Arteaga, founder and president of LaSalle Medical Associates. "We believe all women, especially in the Inland Empire, should have access to low-cost mammograms and our staff is working hard to insure those women who need them, get them. The more women we see the greater the chance we have of saving lives."
For more information about the free mammograms, call (909) 884-9091for LaSalle's Mt. Vernon clinic or (760) 947-2161 for its Hesperia office.
About LaSalle Medical Associates, Inc.
LaSalle Medical Associates, Inc., is an Independent Practice Association (IPA) of independently contracted doctors, hospitals and clinics, delivering high quality patient care to more than 190,000 patient visits in Stanislaus, Fresno, Kings, Tulare, San Joaquin, Los Angeles, Madera, Riverside, San Bernardino and Counties.
LaSalle Medical Associates is one of the largest independent minority owned healthcare companies in California.
-end-