Don't Stop NOW – We're Almost Past This Deadly Crisis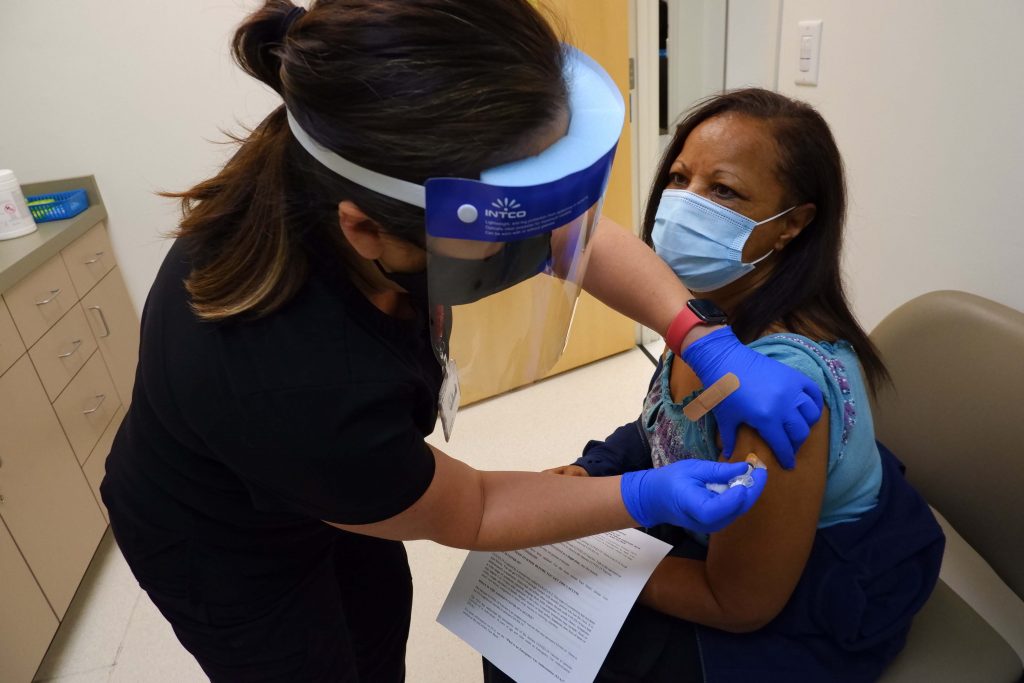 April Reya a medical assistant, gives the COVID-19 vaccination shot to Vicki Creighton, of Riverside, recently at the LaSalle Medical Associates medical office located in Rialto, Calif. Creighton received the one-shot Johnson and Johnson vaccine. (Photo by Valda Wilson) 
"It's not politics. It's about keeping people alive and getting past the pandemic. We are almost there. When you protest everything, that doesn't make you a patriot. It makes you a misfit."
(Redlands, Calif.)  Southern California is finally emerging from the Covid-19 pandemic, but people must continue to follow health precautions until the threat is gone, said Dr. Albert Arteaga, president and founder of LaSalle Medical Associates.
That means washing your hands, following social-distancing guidelines, wearing masks indoors and also when you're among large groups outdoors.
Also, get vaccinated and recognize that the pandemic is a health crisis, not a political issue, said Arteaga.
It's all about attitude, he said.
"We do have a public health problem. No question," he said. "There is a pandemic that can turn rather deadly, and the fact is that around a half million lives have been lost in the United States even though we're the most advanced country in the world."
That happened because one group of people made it a loyalty test problem, he said.
"If you're loyal to this political party, you won't wear masks. If you're loyal, you will protest any business closures because that hurts the economy. Some people stopped thinking about the public good.
"Another way to look at it is, 'Gosh, this is a pandemic. Let's get together to do what it takes to lick this problem.'"
If people had that attitude, they would recognize that recent reports about vaccine side effects and problems were important to keep people informed, not as ammunition for political arguments.
"We needed a vaccine, and it was rushed because people were sick and dying," he said. "So now, when we hear of problems with the vaccine, we must realize this is science. This is not a political belief. The alerts and warnings are important to inform the public, and we all need upgrade to our knowledge.
LaSalle Medical Associates operates two clinics in San Bernardino and clinics in Fontana, Hesperia, Rialto, and Victorville.
Some of the clinics have been administering Covid-19 vaccines for several months, and Dr. Arteaga said they are safe and effective. He's been vaccinated and encourages others to do the same.
He applauded recent updates to CDC guidelines saying fully vaccinated people do not need to wear masks at small family events, when gathering with other fully vaccinated people or in many outdoor situations.
"There is no contradiction, no deception with updating the guidelines," he said. "It seems like masks, social distancing, and closures of businesses and schools have made a difference holding back the tide while the vaccine was put into production, and then we rushed to put it into people's arms.
"And rushing the vaccine is same as rushing an ambulance through traffic to save lives. Don't complain about the ambulance driving too fast or complain that pulling over for it infringes on your ability to drive fast on the same streets."
It's not politics. It's about keeping people alive and getting past the pandemic, he said.
"We are almost there. When you protest everything, that doesn't make you a patriot. It makes you a misfit," he said.
About LaSalle Medical Associates: LaSalle Medical Associates is one of the largest independent minority-owned healthcare companies in Riverside and San Bernardino Counties. The corporate office is in Redlands.
-30-
Tags: Albert Arteaga, covid, covid-19, Dameron Communications, Lasalle, LaSalle Medical Assocates, vaccine