What's Racial Literacy Got to do with Effective Leadership?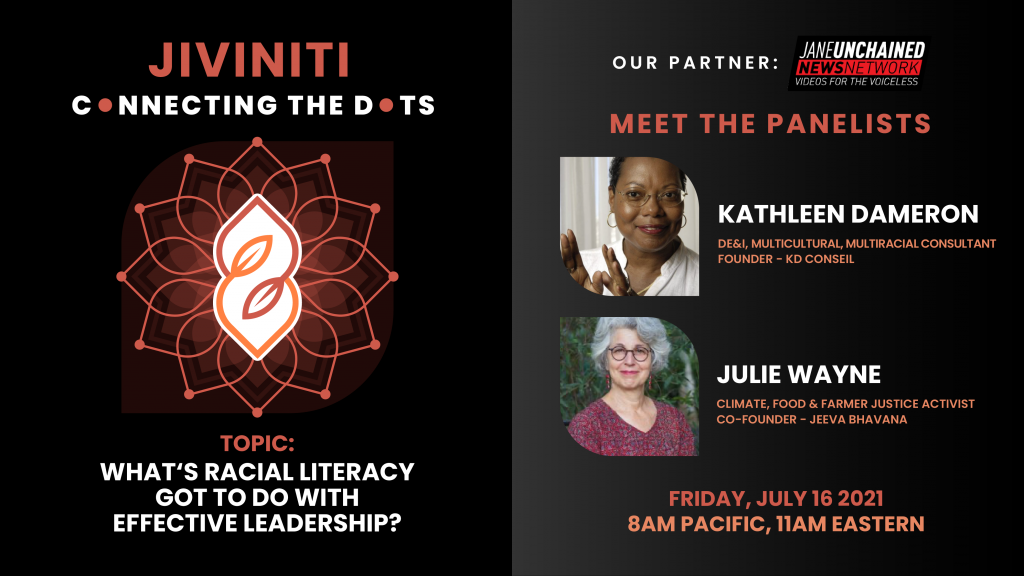 Jiviniti presents Connection the dots: What's Racial Literacy Got to do with Effective Leadership?
"In media partnership with @janeunchainednews, JIVINITI presents yet another powerful "Connecting The Dots ⭕️" – a monthly show that brings together voices across communities, specifically of Women of Color, who are experts in various fields such as Lifestyle Medicine, Planetary Health, Climate & Food Justice, Animal Rights, Women's Empowerment, Civil Rights – from everywhere in the world including & especially the Global South.
🙌🏽Our LIVE! Facebook broadcast on Friday, July 16th at 8am Pacific / 11am Eastern features two #powerful and #inspiring women who will talk about, "What's Racial Literacy got to do with Effective Leadership?"
🌱Kathleen Dameron is a powerful African-American woman leader based in Paris with more than 30 years' experience coaching, facilitating, and training within multinational companies in French, English and Spanish. Kathleen works with corporations that want to transform their cultural diversity into a competitive advantage. Check out her work at https://kathleendameron.com/
🌱Julie Wayne is an amazing White-Caucasian woman leader currently also living in France and has very consciously embraced multi-cultural multi-racial team contexts. She has worked in India for more than twenty years and is an economist by education, a photographer by profession and an environmental and vegan activist by passion. Check out her work with @jeeva_bhavana
✨ Join us for the Connecting the Dots show on the JaneUnchainedNews Network live on Facebook on July 16th at 11 AM EST and 8:00 am PT.
We are also on Spotify as a podcast by the same name!
JIVINITI
Connecting the Dots ⭕️
#jiviniti #jiviniticoalition #jiviniticonnectingthedots #connectingthedots #connectthedots #plantbased #vegan #womeninspiringwomen #janeunchained #janeunchainednews #racialliteracy #effectiveleadership #plantpower #plantpowered