SAN BERNARDINO, CALIF.— The Citrus City Brass will play at the Red Kettle Kick-Off this Thursday, November 17th at 5:30 PM, at the Bear Springs Hotel Events Center, 27923 Highland Ave, Highland, CA 92346.
"The Salvation Army has a wonderful brass band that played at recent Red Kettle Kick Offs; however, they were already booked this year. I was lucky to hear The Citrus City Brass and we are blessed to have them play for us this year. They are wonderful musicians," said Major Isaias Braga.
"We are honored to play for the Salvation Army," said Kenley Nakao, Trumpeter, Citrus City Brass LLC., CEO  "They hear a lot of brass music so we are honored to be asked to play for them at their annual fundraiser. Please watch our video of "Love of My Life" by Freddie Mercury at https://www.youtube.com/watch?v=c8cvkRqE6JY."
Citrus City Brass, a quintet based out of Redlands, CA. Our resident members include Kenley Nakao, Mark Perez (trumpets), and Tom Francis (trombone).
The San Manuel Band of Mission Indians has been a sponsor of this event and Tribal Chairwoman Lynn Valbuena will be giving the keynote address this year. She's an outstanding speaker and always has a message worth listening to," said Major Braga.
Hungry, homeless, hopeless? Trouble paying monthly bills, drug, or alcohol addiction? The Salvation Army helps people in need with all these problems and more. Different programs have different funding sources and one of the most important sources is the annual Red Kettle Kick Off campaign each Christmas season.
The Salvation Army bell ringers in front of your favorite stores collect money that provides food; lodging for homeless or displaced families; food baskets available daily, hot meals, clothing, and furniture; assistance with rent or mortgage and transportation when funds are available.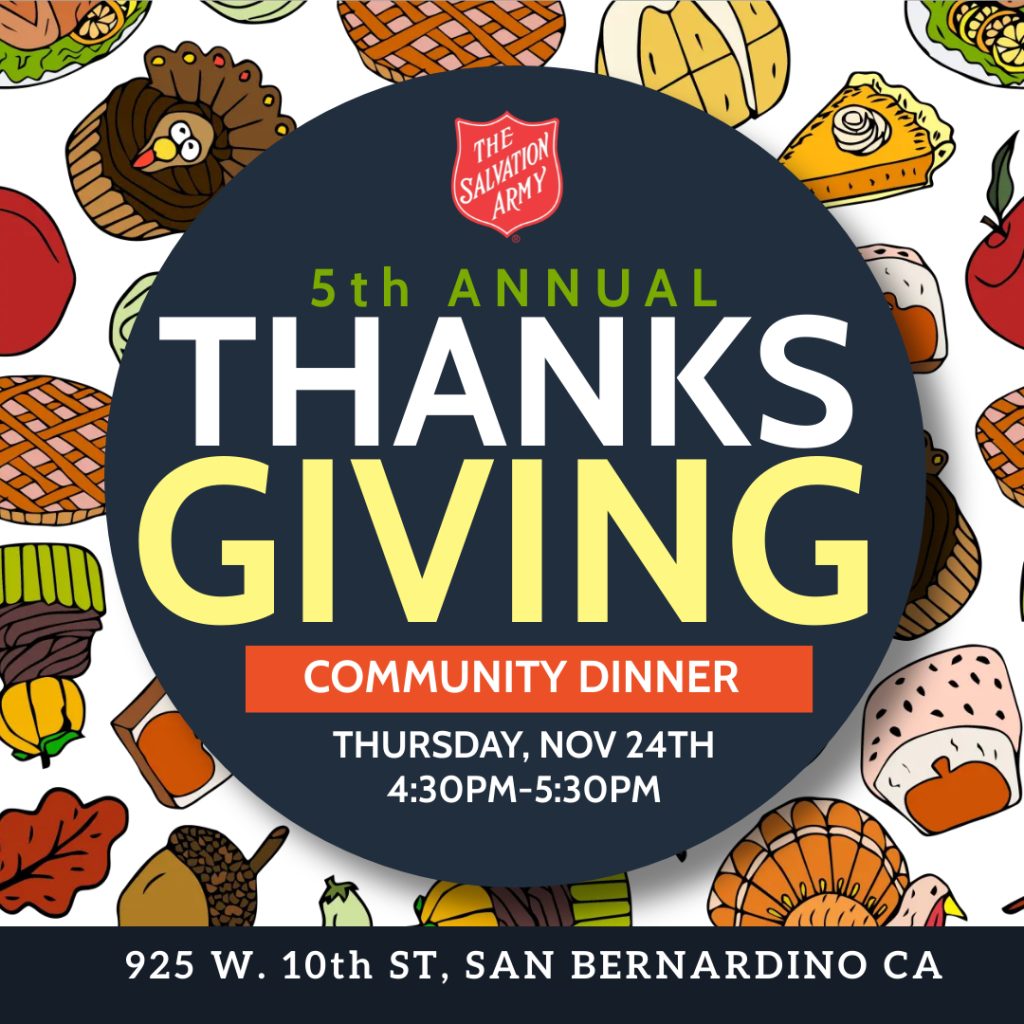 During the Christmas season, The Salvation Army also delivers holiday food baskets to about 500 local families and provides toys to children whose parents cannot afford them.
On Christmas Eve, The Salvation Army of San Bernardino hosts a Christmas Dinner that historically provides a delicious meal to approximately 200 people. Donations from people who donate to the Red Kettles help make this possible.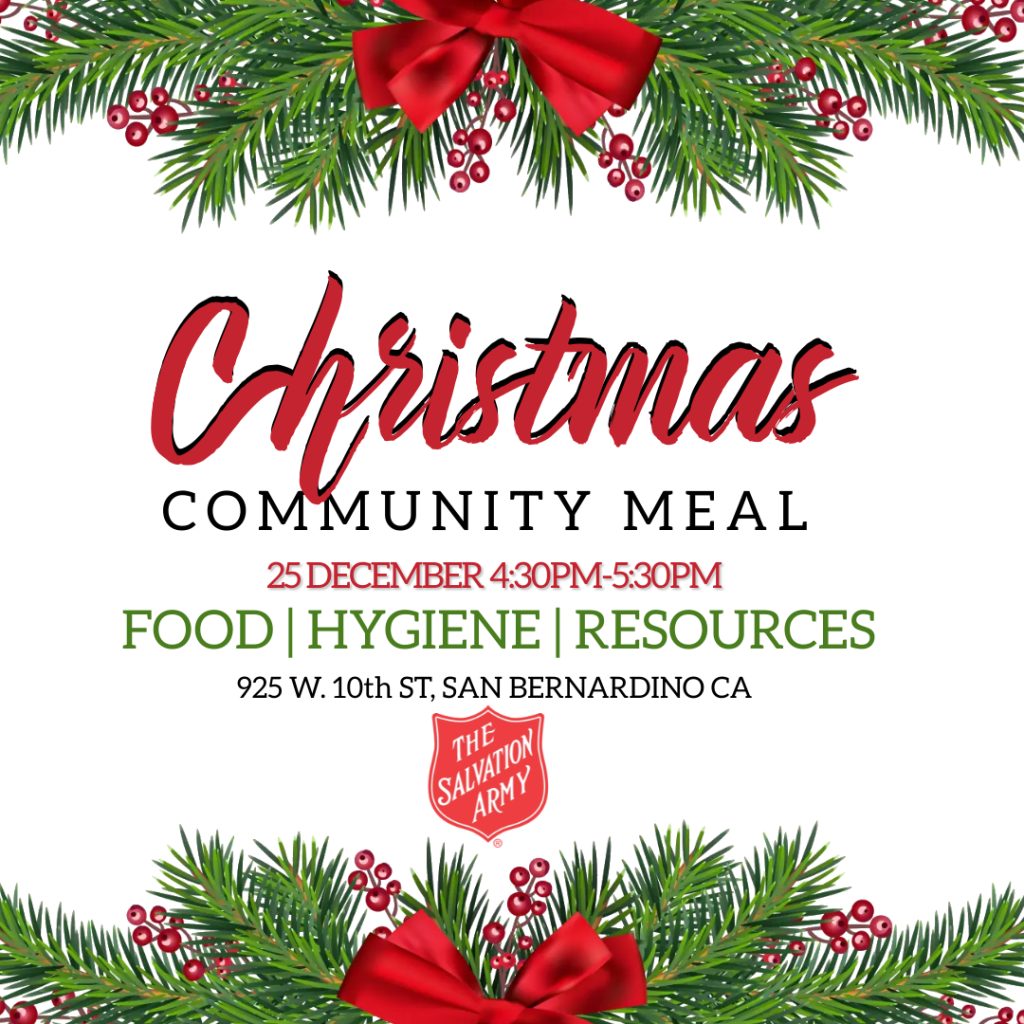 Donations can be made online at https://sanbernardino.salvationarmy.org by calling 1-(800)-SAL-ARMY, specifying that you want your donation applied to San Bernardino Corps in California.
Donors are asked to drop off turkeys, hams, canned food, cash, checks or gift cards at the Salvation Army's Corps Office at 838 Alta Street, Redlands, 92373.
For more information call (909) 792-6868.
About the Salvation Army San Bernardino Corps
The Salvation Army is an evangelical part of the Universal Christian Church and offers holistic programs for individuals of all. One of the largest charitable and international service organizations in the world.
The Salvation Army has served San Bernardino since 1887, and Redlands since 1885, supporting those in need without discrimination.  They serve the cities of: San Bernardino, Redlands, Highlands, Rialto, Loma Linda, Colton, Yucaipa, Calimesa, Bloomington, Mentone, Grand Terrace, Muscoy, and the mountain communities.
About The Citrus City Brass
Citrus City Brass LLC.'s mission is to promote the enjoyment of music and highlight the continuous Evolution of the Brass Quintet. Through multi-genre concerts, engaging educational outreach programs, and the inclusion of multicultural diverse backgrounds to supply a well-rounded approach towards instrumental music.  You can also check us out on Facebook and Instagram @citruscitybrass where we post up to date performances, music content, and more.  For more information call (808) 344-6194.