"We are honored to have more Doctors to help serve the thousands of patients who have placed their trust in our network of primary physicians and healthcare professionals in California," said Dr. Albert Arteaga founder and Chief Executive officer of LaSalle Medical Associates, Inc. Left to Right: Dr. Joseph V. Selvarj, Dr. Albert Arteaga, Dr. Cheryl Emoto, and Dr. Felix A. Albano.
 "People are tired of virtual doctor visits," says LaSalle President Dr. Albert Arteaga, "they want to see their doctor in person again, and we want them to know that at LaSalle Medical Associates, the doctor is in."
 (Redlands, Calif.)  The Covid-19 pandemic in the USA has many people feeling like they are between a rock and a hard place. On the one hand, deaths and hospitalizations are declining, but on the other hand, a new variation is causing rising infections.
The Centers for Disease Control (CDC) says the pandemic is receding, but people still need to take precautions.
Dr. Anthony Stephen Fauci OMRI director of the National Institute of Allergy and Infectious Diseases and the Chief Medical Advisor to the President is saying that we are moving from a pandemic to a less virulent phase, the Associated Press reported on April 27.
In other words, Covid is not going away. Like colds or the flu, it may be here to stay, but weaker. But that does not mean we can just pretend everything is like it was before Covid-19.
Dr. Albert Arteaga, the President of LaSalle Medical Associates, says that the health care providers that provide services through his organization's network, have been seeing patients remotely for the past two years and those patients want personal patient-to-doctor contact again.
"Thankfully," says Arteaga, "we now are in a position to accommodate in-person patient visits again. At LaSalle, the doctor is in!"
To wear a mask or not wear a mask, that is the question. One person who still wears a mask when she goes to the supermarket said, "I still wear a mask when I'm out in public places because in the two years we've all been told we should wear them, I have not had a cold or the flu, let alone the Covid. Masks seem to keep all the viruses away."
LaSalle Medical Associates operates clinics in Fontana, Hesperia, Rialto, Victorville and two in San Bernardino. La Salle has also been teaming up with community-based organizations, including churches, to administer free Covid vaccine shots.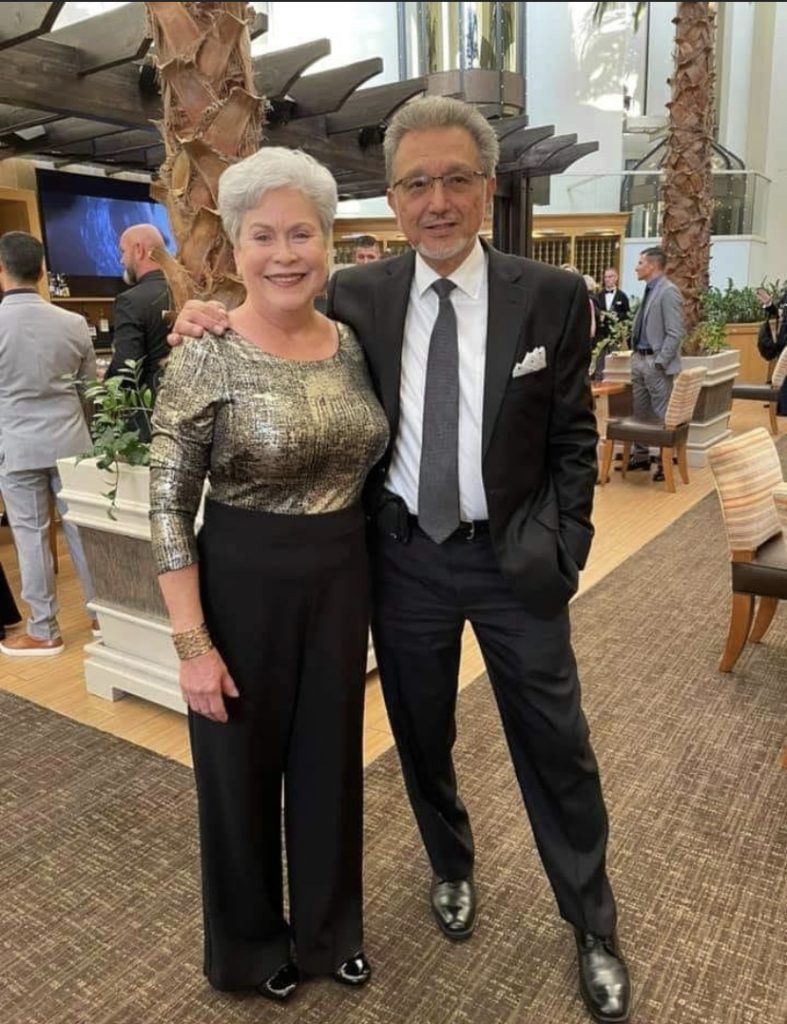 Maria and Dr. Albert Arteaga. The California Medical Association awarded Dr. Albert Arteaga the "Ethnic Physician's Leadership Award," recognizing his contributions to medical care in the Latino community.
For more information or an appointment to a LaSalle Clinic, visit  LaSalleMedicalAssociates.com or call (909) 890-0407.
-30-
About LaSalle Medical Associates
LaSalle Medical Associates, Inc. is one of the largest, independent, and Latino-owned healthcare companies in Riverside and San Bernardino Counties. The corporate office is in Redlands.
LaSalle operates six clinics employing more than 100 dedicated healthcare professionals, treating children, adults and seniors in San Bernardino and Riverside counties. LaSalle's patients are primarily served by Medi-Cal and Healthy Families. LaSalle also accepts Blue Cross, Blue Shield, Molina, Care 1st, Health Net, and Inland Empire Health Plan (IEHP) coverage.
LaSalle is also an Independent Practice Association (IPA) of independently contracted doctors, hospitals and clinics, delivering high quality patient care to approximately 365,000 patients in Fresno, Kings, Los Angeles, Madera, Riverside, San Bernardino, San Joaquin and Tulare counties.