Dameron Communications selected as "Top PR Agencies 2022"
San Bernardino, Calif. – Dameron Communications of San Bernardino, CA has been honored with recognition by UpCity.com in its selection of "Top PR Agencies 2022."
Carl Dameron, founder of Dameron Communications said: "This is quite an honor for us. The fact that UpCity.com included Dameron Communications in its selection of "Top PR Agencies 2022," signals that our constant efforts toward business excellence are paying off. We are proud to be included in this recognition."
Dameron Communications is a team of 15 diverse, talented communications professionals who are experts in research, advertising, public relations, and government and community relations.
Dameron Communications' is an Advertising and public relations agency based in Southern California receiving award-winning client accolades, and delivering effective Advertising and public relations for more than 30 years.
"We infuse research and creativity into our advertising and public relations methods to deliver winning and measurable results," said Dameron.
He added, "We serve clients who make the world a better place: businesses small or large; candidates; governments or nonprofits; and products, services, or causes. We reach our clients' communications goals."
Following the publication of Dameron Communications' selection for UpCity.com's Top PR Agencies 2022 list, American Registry seconded the honor and added Dameron Communications to the "Registry of Business Excellence™". An exclusive recognition plaque, shown above, has been designed to commemorate this honor.
For more information on Dameron Communications, located in San Bernardino, CA please call 909-534-9500, or visit Dameron Communications.com.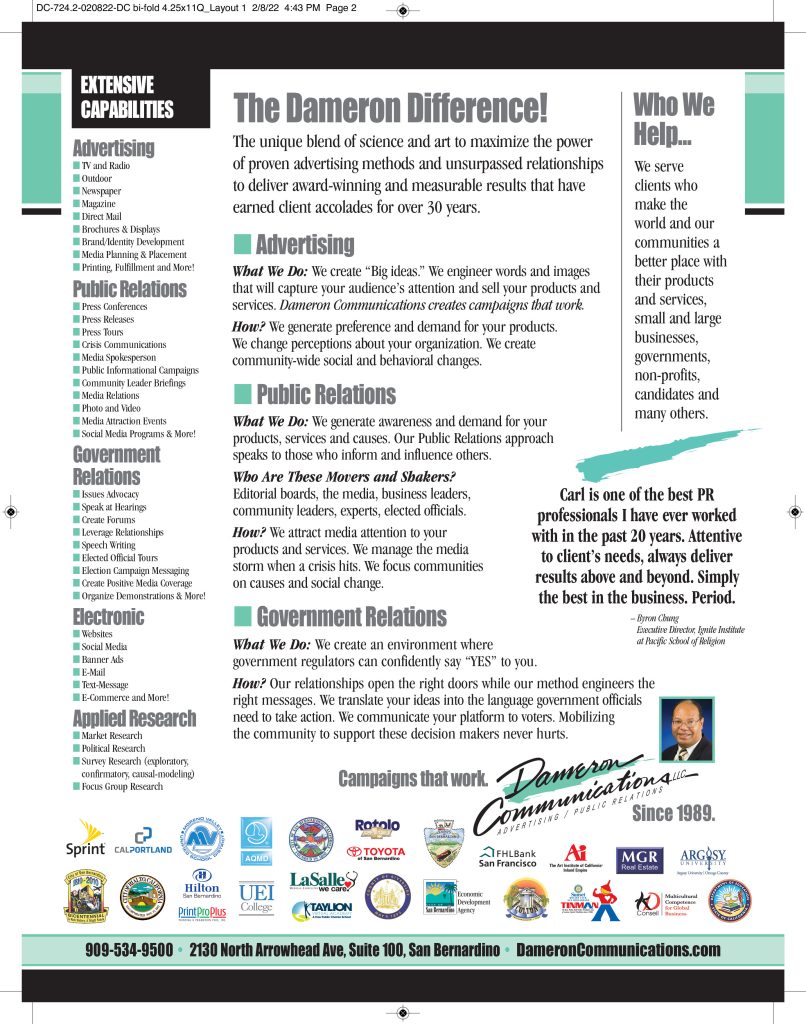 Tags: advertising, african american, black, business, California, Carl Dameron, Carl M. Dameron, Dameron Communications, economy, getting it done, healthcare, help, Inland empire, public relations, succes, winning